Shimla and Manali are beautiful hill stations located in the Himalayan foothills in Himachal Pradesh. While Manali stands at a height of 2050 m, Shimla is perched at 2200 m. They form the ideal vacation from the hustle and bustle of city life. Manali Shimla Holidays Packages are suitable for honeymooners, families, friends, and groups of colleagues.
Apart from magical views, Manali and Shimla are renowned for a plethora of adrenaline-pumping activities. These include kayaking, hiking, mountain biking, paragliding, and rafting.
Other attractions comprise hot Sulphur baths, waterfalls, a ropeway at Solang, and many more. You can visit the two places for impressive ancient Pagoda-style temples. The vibrant markets are great for shopping for Himachali items. Manali and Shimla fit into every traveler's budget with ambient cafés, small and big eateries, and wide-ranging lodging options.
Why do Indians Love Manali & Shimla for Vacation?
Indians love Manali and Shimla for vacation because of the pleasant climate and numerous tourist spots. Unlike the sultry weather of most Indian cities, the cool weather is appreciated by the people. They can be easily visited by all types of travelers, and the packages fit within every budget.
People also like to explore the unique history, culture, heritage, and customs of Himachal Pradesh through these cities. The meandering roads, the train journey, the mist-clad mountains, and the scenic charm also attract tourists. Vacationing connects you to fellow travelers. It helps you to bond with your family and interact with the locals.
Packages Overview
Manali Shimla holiday packages are the perfect way to explore both of these beautiful Indian hill stations. The packages offer travelers an unforgettable experience. They include a mix of sightseeing, cultural activities, adventure sports, and luxury accommodations. We have partnered with some of the leading hotels in Manali and Shimla to provide you with top-notch services and a comfortable stay.
We also offer a variety of add-ons like babysitting, romantic dinners, senior citizen assistance, and guided tours to customize your package. You can also indulge in a variety of ayurvedic treatments available in both Manali and Shimla, including yoga, massage, aromatherapy, and meditation. You can get the most out of your vacation with a personalized package that matches your needs.
Why Book with us?
Manali Shimla holiday packages provided by Holidays DNA offer a great way to explore the beauty of both these places at affordable prices. The packages are customizable and can be tailored according to your needs and budget.
Our packages include accommodation, sightseeing tours, meals, transfers, and more. Private car rental services for sightseeing are also provided. We provide excellent 24/7 customer service with prompt assistance when needed. With us, you can be sure of a hassle-free holiday experience.
On request, you can customize your meals and opt for baby care, family rooms, barbeque, bonfire, or candlelight dinner. We can arrange bike and walking tours to help you explore the hill towns at your own pace.
Resort & Hotels options with our Manali Shimla Holiday Packages
The charming hill stations of Manali and Shimla provide well-developed hotels, resorts, and cottages with top-class amenities. They have a stunning background, and you can wake up to the splendid vistas. You can stay close to the gushing rivers and the encompassing hills.
Choose campsites and luxury tents if you love outdoor adventures. More pocket-friendly accommodations include homestays, hostels, and dormitories. The cozy hotels come with balconies, a gym, a spa, and gardens.
Best hotels in Manali and Shimla are The Oberoi Cecil, Rosetum Manali, Larisa Retreat, Tiaraa Hotels and Resorts, and The Himalayan. The Cedar Villa, Himalayan Riverside Resort, Sita Cottage, Snow Palm Resort, and Royale B&B are budget-friendly stay options.
Popular Sightseeing Places in Manali and Shimla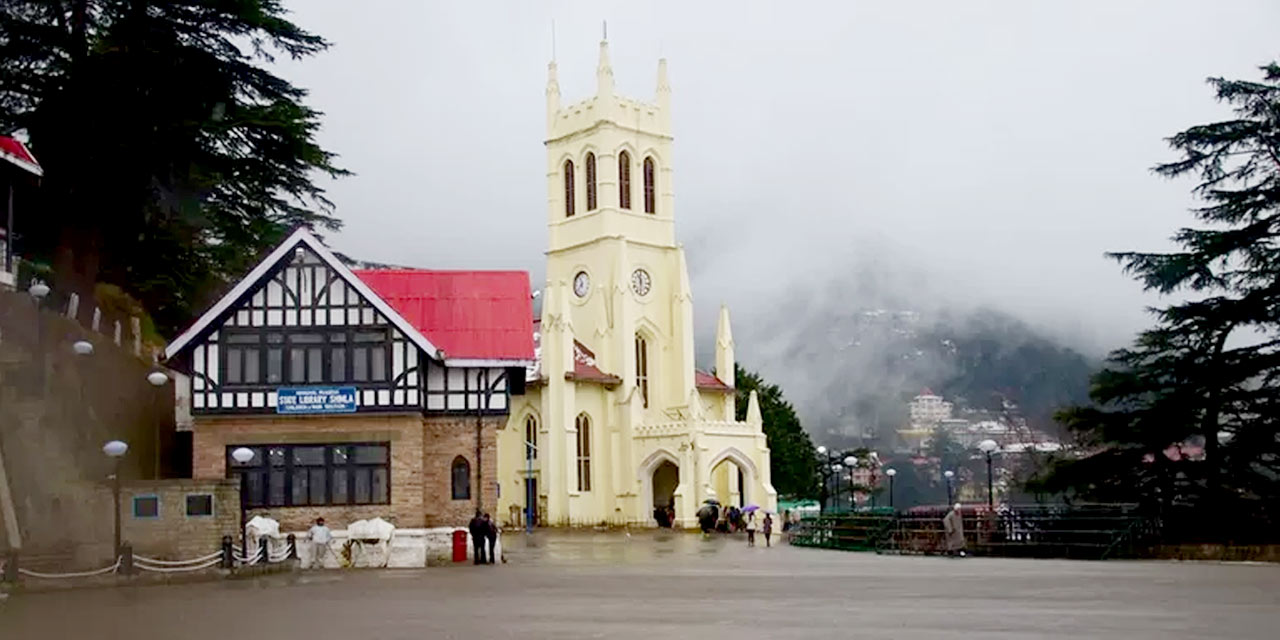 A popular tourist spot and revered place of worship, Christ Church is the 2nd oldest church in North India. Located at the Ridge, Shimla, it is famous for its Neo-Gothic architecture. It is a reminder of the British colonization of India.
The yellow building with a front porch, church bells, and five stained glass windows represents diverse tenets of Christianity. You can soak in enchanting vistas from this vantage point. Its romantic environs exude a peaceful ambiance despite the chaos at the Ridge.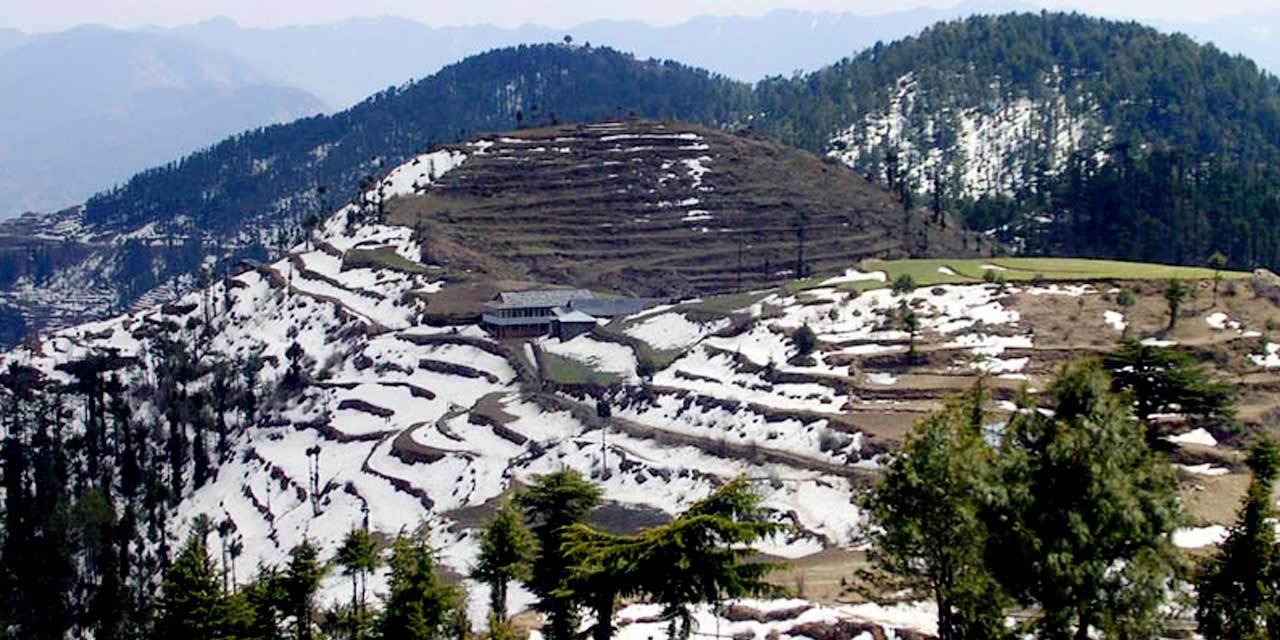 Perched at 2720 m, Kufri is the starting point of some of the most notable treks in Himachal. It is a quaint hill station and a top tourist attraction in Shimla. It was also a former summer retreat of the British. Every tourist loves its unspoiled charm.
Flanked by the Himalayas, the lofty valleys shelter a wide variety of flora and fauna. The thick deodar and pine forests enhance its beauty. Visit the Himalayan National Park and Kufri Fun World. Indulge in skiing, pony rides to the Mahasu Peak, and tobogganing.
3. Sethan Valley
A breathtaking Buddhist hamlet, Sethan Valley is situated at 2700 meters, overlooking the Dhauladhar Range. Located in Manali, it is a hidden paradise. It is the only place in India where you can stay in an igloo.
You must visit it in winter to witness the sun-kissed peaks and the snow-clad mountains. Enjoy skiing, snowbound trekking, and snowboarding. Sethan is also a religiously significant place. It is the beginning of the Indrasana Peak trek. You can also witness Pandu Ropa. It is the spot where the Pandavas stayed during their exile.
Jogini Waterfall is one of the largest waterfalls in Manali. Cascading from 160 m height through multiple levels, it is a mesmerizing point on the way from Vashisht Temple. It is a popular spot for an enthralling trekking experience and is perfect for clicking pictures.
You must hike for 3 hours to reach this point. You can acquire dazzling vistas of the Beas River and the snow-covered Rohtang peaks. Take a pit stop for chai and local snacks with your loved ones.
5. Old Manali
Nestled at 2008 meters, Old Manali is a laidback settlement led by a bridge over the river. It is an ideal natural retreat with the swaying eucalyptus, the gushing Kullu River, the towering hills, and the winding roads.
Solo travelers or backpackers especially love this hidden gem. Watch the intoxicating sunrise and sunset. Walk through the less crowded city to experience the serenity of Manali and visit the top tourist attractions of Manali. Head to the famous Hadimba temple situated amidst the dense tropical forest. You will love the wooded mountain trails and apple orchards by the Manaslu River.
Activities and things to do in Manali and Shimla
Manali and Shimla offer several fun and exciting activities to try. Tibetan Monastery in Manali upholds Buddhist culture and offers immense peace and pleasure to tourists. Beas Kund trek takes you closer to nature and rewards you with magnificent views of the Pir Panjal Ranges.
At Manikaran Gurudwara, take a Sulphur water bath for healing. Gape at the authentic art displays at the Naggar Castle. One of the best things to do in Shimla is the Kalka-Shimla toy train ride. Visit the Kuthar Fort for architectural and natural beauty. Try ice skating in Asia's only open-air ice skating rink. Rafting at Tattapani on the River Sutlej will rejuvenate you.
In Manali, you can visit the Himachal Emporium for handicrafts. Old Manali Market and Manu Market are neatly lined with colorful shops selling all sorts of cool stuff. Head to the Tibetan market for a good range of Tibetan products.
A trip to Shimla is incomplete without a visit to the famous Lakkar Bazaar, selling wooden items. The Mall is a major hotspot with all sorts of enjoyment and entertainment. Ram Bazaar is known for its fresh produce and inexpensive goods. Also called the Subzi Mundi, Lower Bazaar is a typical vegetable market.
Find products like Buddhist paintings, apparel, jewelry, cloth, and decorative items. The colorful Himachali hats with ethnic designs are a specialty of these places. Purchase excellent quality woolen items like shawls, sweaters, gloves, and woolen caps at reasonable prices. Bags and weaver cloth are also popular.
Get hold of local handicrafts like printed and dyed fabrics, wooden carvings, handmade jewelry, interior décor, and paper. Jams and pickles primed in ethnic style make adorable souvenirs. Buy paper silk printed sarees and Kashmiri salwar suits.
How to reach Manali Shimla
The nearest airport to Manali is Kullu-Manali Airport in Bhuntar. You get regular flights from prominent Indian cities like Mumbai, Bangalore, Delhi, and Chandigarh. You can then take a cab to reach Manali. Since Manali does not have a railway station, you must take a train to Joginder Nagar Railway Station or Chandigarh Railway Station. You can book a cab or a bus to the hill town.
Jubbarhatti Airport is the nearest to Shimla. Avail of a prepaid bus or taxi to reach Shimla. Kalka Railway Station is the closest broad-gauge railhead. You can travel to the hill station by cab or AC buses on the well-maintained national highways.
---
A holiday in Manali and Shimla can be an enriching and unforgettable experience. The snow-covered mountains, lush green valleys, and the pleasant climate of these places make it a wonderful destination for tourists.
Manali Shimla Holiday Packages provide the perfect opportunity to explore these beautiful places with ease. The packages are inclusive of transportation, accommodation, and sightseeing arrangements in both Manali and Shimla. We also arrange for a private car so that you can travel comfortably to both the hill cities.